At Pumba Safari Cottages we are happy to welcome you for a tasty meal in our elevated restaurant looking out over the treetops and over the endless view of the savannah. We serve meals with a local touch and are happy to prepare a full local style meal for you if you wish.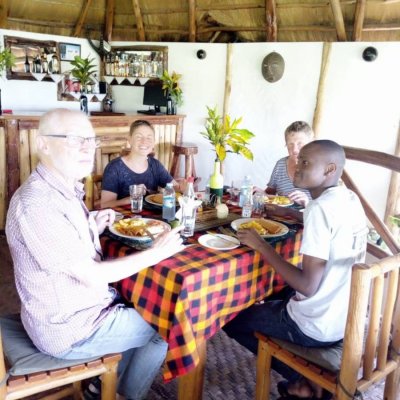 At our Queen Elizabeth NP Lodge we serve continental breakfast with your choice of eggs, fresh fruits, juice and bread as well as tea or coffee. For lunch and dinner we work with a set menu so please let us know when booking if you have any special diet or food allergies we should take into account. If you wish to have a packed lunch or breakfast for your adventures in Queen Elizabeth National Park it can be arranged as long as you let us know the day before.
Local Ugandan food
We like to incorporate a bit of the local Ugandan food in our menus to let you get a taste of for example matoke, g-nuts, beans, cassava and other local foods. A dinner or lunch of local food can be arranged if you are interested, just talk to our team and they will arrange it for you.